Market forces dictate that you need to evolve or die.
This item is no longer available for purchase.
Snipetron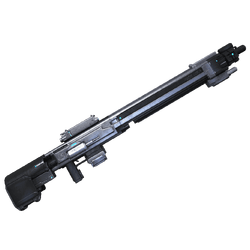 Statistics
Utility
| | |
| --- | --- |
| Projectile Speed | Hit-Scan |
| | |
| --- | --- |
| Firing Rate | 1.5 rounds/sec |
| | |
| --- | --- |
| Magazine Size | 4 rounds/mag |
Normal Attacks
Miscellaneous
Currently impossible to obtain.
Manufactured by the Corpus, the Snipetron is a powerful and accurate rifle that sports optical zoom capabilities. Perfect for long range engagements.
The Snipetron is a high quality sniper rifle with immense zoom. It is extremely useful for support gameplay.
As of Update 8, the Snipetron was removed from the game's Market and can no longer be obtained. According to the developers, the Snipetron's use of standard bullets as opposed to being a railgun or energy weapon did not fit the lore of the Corpus, and it was removed as a result.
Players were able to obtain a Snipetron Vandal and a Blueprint for the normal Snipetron through the Informant Event after killing 20 Informers.
This weapon can be sold for
‍7,500.
Characteristics
This weapon deals mostly Puncture damage.
Advantages:
Disadvantages:
Acquisition
As of Update 8 the Snipetron is no longer available though the Market, though a blueprint was given out along with the Vandal variant to players who participated in the Informant Event, provided the player killed at least 20 drones.

Weapon Loadouts
Main article: Category:Snipetron Build
See the user build section for builds using this weapon.
Tips
Notes
Media
See Also