ENERGY




50




KEY


3

Snow Globe


Frost deep freezes any vapor and moisture in the area, creating a protective sphere with brief invulnerability to boost its strength.

Strength

:

? / ? / ? / 5000 (base health)
5x (armor multiplier)
50% (damage percentage)
40% / 50% / 60% / 67% (slow)
? / ? / ? / 150 (explosion damage)

Duration

:

1 / 2 / 3 / 4 s (invulnerability duration)
? / ? / ? / 3 s (freeze duration)

Range

:

5 m (globe radius)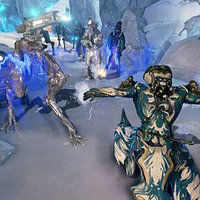 Main article: Chilling Globe
Chilling Globe is a Warframe Augment Mod for Frost that gives Snow Globe a chance to temporarily freeze enemies solid that enter its range.
Maximized Power Strength along with Steel Fiber and Armored Agility will add up to a base health of 12,887.5 (using Arcane Squall Helmet is recommended, because it boosts the health more than Aurora Helmet does).
Place over a cryo-pod in defense missions to shield it from all incoming fire.

Maximized Power Duration will reduce the globe's radius to 1.7 meters, allowing the globe to protect a cryopod without obstructing friendly fire.

A maximized range snow globe is ideal for Infested missions as it will create a large area to more easily fight this melee-focused faction.
When a teammate is downed, place a Snow Globe over him/her to protect you while reviving.
When facing a boss with ranged attacks, do not place a Snow Globe on it. Instead, place it where your team is, as to protect them from incoming damage.
When facing a melee boss, you can place a Snow Globe on the boss to slow it down.

It's strongly recommended to place a Snow Globe on melee bosses if and only if you have range mods equipped. Otherwise only place it on a boss if your team agrees on this decision.

The particle effect inside the globe can distract players vision. Having a black energy color will remove this particle effect entirely, allowing better vision inside the globe.
Recasting the ability after 4 seconds while remaining inside the Snow Globe will allow to sustain an impenetrable Snow Globe, that will grow stronger and stronger. This is due to the fact, that it absorbs the enemy fire into its health and adds this health to the next Globe, as long as it is cast inside the first one.

Particularly useful in T4 Defense, since the enemies will quickly reach a level, where it does not matter how much base health your Snow Globe has.

Snow Globe's ability to temporarily freeze and push away enemies can be an effective way to rapidly clear a large safe area to revive teammates or remove enemies attacking a defense objective.
Using Freeze to detonate a Snow Globe can also be one while inside another globe. This will not affect the globe you are in. If multiple globes overlap, it is possible to shatter a globe which protrudes into another globe by aiming at the part inside your globe.
Maximization is a form of specialization: mods may be blended to result in values that vary between the top-end limits listed here. Click any maximized link to learn how to build it.