"It's taking longer than I calculated."

This page is actively being worked on and may not be completely correct. Please assist in making this page accurate.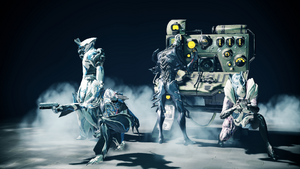 Spy (ver 2.0) is a mission type where players are tasked with extracting confidential data from enemy data servers.
The blueprints for the Ivara Warframe and her component parts are potential rewards for spy missions on all planets, with different blueprints being rewarded at different level ranges.
Mechanics
Edit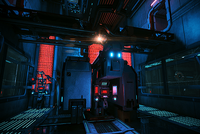 Spy missions require players to locate consoles found in Data Vaults, which are special rooms featuring heavy security and advanced defense mechanisms guarding the console access terminals. Each mission will have three separate Data Vaults, of which all three must be breached and attempted before extraction becomes available. Players must breach the Data Vault rooms and then hack the access console in order to extract the data. If a Tenno trips over the Data Vault's security features, or an enemy activates the Data Vault's alarm, the Data Vault's defense mechanisms and enemy reinforcements become active, and a countdown timer will initiate indicating the time until the data is wiped off the server, giving players 50 to 20 seconds (depending on difficulty) in which to attempt to reach the console and hack it.
Similar to Rescue Prison Complexes, Data Vaults often feature alternate paths and tunnels that can be used to stealthily bypass the Data Vault's defenses, allowing for stealthy completion of a Data Vault. Some vault variants, especially those on Grineer Sealab and Grineer Forest tilesets will also have alternate methods of reaching the vaults by activating special map features such as high-pressure vents, or flooding.
End-of-mission rewards for Spy missions depends on the number of Data Vaults successfully hacked, with at least one vault hack needing to be successful in order to accomplish the mission.
Variations
Edit
Apart from enemies patrolling the rooms, the Corpus and Grineer have different emplaced defenses set up around their Data Vaults, with the defenses present depending on the variant of Data Vault. The defenses present will initiate each vault's alarm if tripped. Some security measures can be disabled if nearby panels are hacked or deactivated.
Some Data Vaults may also feature security doors and pit traps that will engage and close upon alarms being triggered, which can impede a player's movement through the vault.
Whether a player succeeds or fails in retrieving the data inside the Data Vault, the vault itself will become easier to exit from: Corpus Data Vaults will have their laser defenses and any pit traps deactivated, while Grineer and Orokin Data Vaults can open alternate passages that lead to the exit.
Each Data Vault will reward from 1,000 to 4,000 Affinity for a successful hack (based on the tier of the mission you are on), which will be tripled if completed without triggering the alarms. The Affinity earned is dependent on the complexity of the Vault, and corresponds with enemy level.
Spy missions can reward the following items upon successful completion. Each Vault hacked will reward one item, regardless if done stealthily or not.
View Spy 2.0 Rewards List
▾
▾
View Tiered Item Locations
▾
▾
Last updated:

Specters of the Rail

Tier
Reward
Planet
Node
Level
Faction
Tileset
Tier 1
Levels 1-15
Ivara Systems
Vicious Frost
Volcanic Edge
Earth
Cambria
2-4
Grineer Forest
Venus
Unda
4-6
Corpus Outpost
Mercury
Suisei
8-10
Grineer Galleon
Mars
Arval
9-11
+
Grineer Settlement
Phobos
Shklovsky
11-13
Corpus Ship
Ceres
Bode
12-14
Grineer Shipyard
Tier 2
Levels 16-25
Ivara Chassis
Rime Rounds
Scattering Inferno
Jupiter
Adrastea
18-20
Corpus Gas City
Europa
Valac
18-20
Corpus Ship
Saturn
Dione
21-23
Grineer Asteroid
Lua
Pavlov
25-30
+
Orokin Moon
Tier 3
Levels 26+
Ivara Neuroptics
Ivara Blueprint
Covert Lethality
Frigid Blast
Frostbite
Thermite Rounds
Scorch
Uranus
Rosalind
27-29
Grineer Sealab
Neptune
Laomedeia
30-32
Corpus Ice Planet
Sedna
Kappa
30-34
Grineer Galleon
Pluto
Oceanum
32-36
Corpus Outpost
Sedna
Tikoloshe
36-40
Grineer Asteroid
Last updated:

Lunaro 5

Tier
Reward
Planet
Node
Faction
Tile Set
Tier 1
Level 1-15
Ivara Systems
Vicious Frost
Volcanic Edge
Earth
Cambria
Grineer Forest
Jupiter
Adrastea
Corpus Gas City
Mars
Martialis
Corpus Ship
Mercury
Suisei
Grineer Galleon
Saturn
Titan
Grineer Asteroid
Venus
Unda
Corpus Outpost
Venus
Vesper
Corpus Ship
Tier 2
Level 16-25
Ivara Chassis
Rime Rounds
Scattering Inferno
Earth
Pavlov
+
Orokin Moon
Europa
Armaros
Corpus Ship
Europa
Valac
Corpus Ice Planet
Phobos
Grildrig
Grineer Settlement
Phobos
Shklovsky
Grineer Settlement
Saturn
Aegaeon
Grineer Asteroid
Sedna
Scylla
Grineer Galleon
Sedna
Tikoloshe
Grineer Asteroid
Uranus
Rosalind
Grineer Sealab
Uranus
Umbriel
Grineer Sealab
Tier 3
Level 26+
Ivara Helmet
Ivara Blueprint
Covert Lethality
Frigid Blast
Frostbite
Thermite Rounds
Scorch
Ceres
Hapke
Grineer Shipyard
Ceres
Lex
Grineer Galleon
Eris
Cyath
Infested Ship
Eris
Gnathos
Corpus Outpost
Neptune
Laomedeia
Corpus Outpost
Neptune
Sao
Corpus Ship
Pluto
Oceanum
Corpus Outpost
Last updated:

Lunaro 5

Tier
Reward
Planet
Node
Faction
Tile Set
Tier 1
Level 1-15
Ivara Systems
Vicious Frost
Volcanic Edge
Earth
Cambria
Grineer Forest
Jupiter
Adrastea
Corpus Gas City
Mars
Martialis
Corpus Ship
Mercury
Suisei
Grineer Galleon
Saturn
Titan
Grineer Asteroid
Venus
Unda
Corpus Outpost
Venus
Vesper
Corpus Ship
Tier 2
Level 16-25
Ivara Chassis
Rime Rounds
Scattering Inferno
Earth
Pavlov
+
Orokin Moon
Europa
Armaros
Corpus Ship
Europa
Valac
Corpus Ice Planet
Phobos
Grildrig
Grineer Settlement
Phobos
Shklovsky
Grineer Settlement
Saturn
Aegaeon
Grineer Asteroid
Sedna
Scylla
Grineer Galleon
Sedna
Tikoloshe
Grineer Asteroid
Uranus
Rosalind
Grineer Sealab
Uranus
Umbriel
Grineer Sealab
Tier 3
Level 26+
Ivara Helmet
Ivara Blueprint
Covert Lethality
Frigid Blast
Frostbite
Thermite Rounds
Scorch
Ceres
Hapke
Grineer Shipyard
Ceres
Lex
Grineer Galleon
Eris
Cyath
Infested Ship
Eris
Gnathos
Corpus Outpost
Neptune
Laomedeia
Corpus Outpost
Neptune
Sao
Corpus Ship
Pluto
Oceanum
Corpus Outpost
View Orokin Moon Spy Rewards List
▾
▾