Spy Missions
require players to locate and
hack
 terminals. Once a terminal is hacked, a datamass will be raised on the platform next to it. Players must pick it up and proceed to the next terminal. All datamasses must be brought to the extraction point to complete the mission.
Datamass
A Datamass is a
Corpus
data storage device. 

They are usually spawns as a rag-doll pickup, and pretty much behaves like any other loots. It is possible to blast a Datamass away with an
Ogris
.
Datamasses stack, therefore one player can carry all data masses as a single unit. When a datamass is picked up, the carrier will automatically switch to their pistol. If they switch to their primary weapon, they will drop the datamass. Pistols and melee weapons can always be used with datamasses in hand, regardless of whether or not they are two-handed/akimbo.
For every new datamass, in a set of four, that is claimed, a different LED will light up totaling to four lights that will all glow the same colour. However, if a player that is caring a complete stack from a previous objective claims a datamass from a new objective, the LEDs will display a different colour - green.
Currently, maximum possible size of a datamass stack is 8: one stack spawned from the primary mission and another by a secondary data collection objective.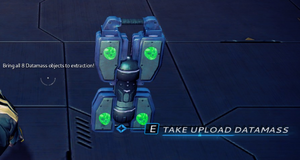 Spy Missions
Rewards
Players will get a random mod, blueprint or consumable as a mission reward on completion of a Spy mission.
Media