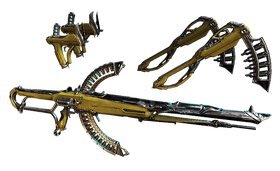 The Supreme Soma Set can be purchased for
‍ 530 from the Market. This bundle includes the following items, with individual prices listed below:
Included weapons will each come preinstalled with their own inventory slots and Orokin Catalyst.
This bundle is one of the few bundles with a mastery requirement, having a requirement of 6.
Patch History
Edit
Update 16.3
Introduced along with the Aksomati and the Dual Raza.