Synoid Gammacor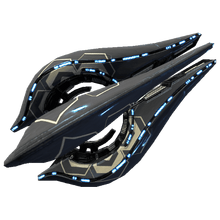 Statistics
Utility
Normal Attacks
Miscellaneous
The Synoid Gammacor is an exclusive version of the Gammacor available only from Cephalon Suda, possessing better stats as well as innate Entropy effect.
Characteristics
Edit
This weapon deals
Magnetic damage.
Advantages:
Moderate damage among continuous weapons.
Very high rate of fire, increasing damage potential.
Has an innate Entropy effect. See the Weapon Augment Mods page for more details.
Highest magazine size of all secondaries at 150
High status chance.
Pinpoint accuracy.
Reduced Noise Level.
Disadvantages:
Limited range at 25m.

Magnetic

damage is very ineffective against Alloy Armor, as it deals 50% less damage.
Poor ammo efficiency.
Comparisons:
Synoid Gammacor, compared to the Gammacor:

Lower damage (28.0 vs. 50.0).
Higher critical chance (10.0% vs. 5.0%).
Higher critical damage (2.0x vs. 1.5x).
Higher status chance (20.0% vs. 5.0%).
Higher rate of fire (15 rounds/sec vs. 5 rounds/sec).
Larger magazine size (150 rounds vs. 50 rounds).
Higher ammo reserve (450 vs. 210)
Innate Entropy effect.
Additional polarity.
Higher DPS (420.0 vs. 250.0)
Weapon Loadouts
Edit
Acquisition
Edit
The Synoid Gammacor can be acquired by reaching the Rank of Genius with Cephalon Suda, and spending ‍100,000 to purchase. As with all Syndicate Weapons, the Synoid Gammacor cannot be chosen as the free offering upon ranking up to Genius rank.
The Synoid Gammacor's beam when fired does not immediately hit at its maximum range. Instead it takes around half a second to extend to its maximum range, and will maintain that range as long as the weapon is being fired. The beam retracts when the weapon stops firing.
Throwing Vauban's trapping modules while aiming with the Synoid Gammacor will result in the modules being thrown a little to the left of where they would be thrown with other weapons. Aiming to the right of the target can compensate for this discrepancy.
The Synoid Gammacor has an innate Entropy effect identical to that found in Cephalon Suda Weapon Augment Mods. Upon accumulating sufficient affinity, the Synoid Gammacor will release an AoE radial blast that deals

Magnetic

damage and proc, restores 25% of the Warframe's base Energy, and temporarily buffs maximum Energy by 25% for 30 seconds. Caster frames with high energy pools will benefit most from this effect, while lower energy count frames will not get very much energy with the bonus.
Unlike most secondary weapons, the Synoid Gammacor is worn like a gauntlet on the Warframe's right arm.
The Synoid version replaces the circular holograms formed on the arm with the Cephalon Suda emblem.
The word 'Synoid' is likely a corruption of the word 'synod', which is an assembly of the clergy under a church, or a reference to the word 'synapse', a biological term defining the gap between two neurons.
The Synoid Gammacor was the first item in the game to have the "Synoid" prefix, followed by the Synoid Syandana in second.
Equipping an Extinguished Dragon Key will cause the arsenal UI to display values based on the Gammacor's damage.
Patch History
Edit
"Ah, have you come to make a donation to my newest 'enterprise'...?"

Patch history is needed. Click here for instructions.
Ad blocker interference detected!
Wikia is a free-to-use site that makes money from advertising. We have a modified experience for viewers using ad blockers

Wikia is not accessible if you've made further modifications. Remove the custom ad blocker rule(s) and the page will load as expected.