ENERGY




100




KEY


4 

Tentacle Swarm


Summons a creature from the deep to wreak havoc.

Strength

:75 / 150 / 225 / 300 (maximum tentacle damage)
50 / 100 / 150 / 200 (capture damage)
7 / 8 / 9 / 12 (tentacles)

Duration

:

10 / 13 / 18 / 20 s

Range

:∞ (cast range)
10 / 12 / 15 / 20 m (spawn radius)
Hydroid summons a creature from the deep, causing 7 / 8 / 9 / 12 tentacles to emerge from all surfaces within 10 / 12 / 15 / 20 meters of a marked location. Each tentacle deals a maximum of 75 / 150 / 225 / 300

Magnetic

damage upon emerging, on first contact with enemies, and when submerging when Tentacle Swarm expires.
Each tentacle will thrash about for 10 / 13 / 18 / 20 seconds. Captured enemies will take 50 / 100 / 150 / 200 Finisher damage per second.

Capture damage is affected by Power Strength and bypasses armor and shields.
Duration is affected by Power Duration.
Enemies captured by the tentacles are ragdolled as they're slammed against the ground repeatedly. When killed, the bodies will cling to the tentacles.

Tentacle Swarm's spawn area will be highlighted by Hydroid's energy color during the casting animation.

The tentacles have a good chance of spawning directly underneath enemies within the highlighted area.

Can be recast while active; however, only one instance of Tentacle Swarm can be active at a time. Recasting will replace the previous instance.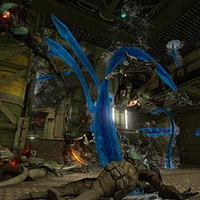 Main article: Pilfering Swarm
Pilfering Swarm is a Hydroid Warframe Augment Mod that grants Tentacle Swarm a chance to yield additional loot from enemies killed while they're ensnared by the tentacles.
The "Finisher" grapple damage of the tentacles are not affected by sources that boost or negate Finishing Damage.
Maximization is a form of specialization: mods may be blended to result in values that vary between the top-end limits listed here. Click any maximized link to learn how to build it.
Animation is made and energy is wasted but no tentacles spawn
Ad blocker interference detected!
Wikia is a free-to-use site that makes money from advertising. We have a modified experience for viewers using ad blockers

Wikia is not accessible if you've made further modifications. Remove the custom ad blocker rule(s) and the page will load as expected.