ENERGY




75




KEY


2 

Terrify


Casts fear into the hearts of nearby enemies, causing them to run away in terror.

Strength

:7 / 12 / 15 / 20 (affected enemies)
5% / 10% / 15% / 20% (armor reduction)

Duration

:

10 / 15 / 20 / 25 s

Range

:

5 / 10 / 12 / 15 m
Nekros releases a psychic blast that causes up to 7 / 12 / 15 / 20 enemies within 5 / 10 / 12 / 15 meters to enter a state of panic for 10 / 15 / 20 / 25 seconds. While panicked, enemies will not attack and will haphazardly flee, exposing themselves and reducing their armor by 5% / 10% / 15% / 20%.

Number of affected enemies and armor reduction are affected by Ability Strength.
Armor reduction will stack multiplicatively with Corrosive Projection.
Overlapping successive casts will stack Terrify's armor reduction effect multiplicatively.
Duration is affected by Ability Duration.
Cast radius is affected by Ability Range.
Enemies unaffected by Terrify are prioritized upon subsequent casts.

Energy drain Eximus units will still have their ability to drain player's energy when near.
Bosses are unaffected by this ability.
Can be recast while active.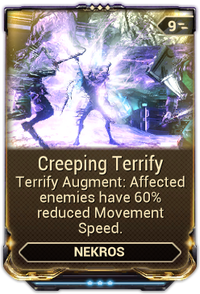 Main article: Creeping Terrify
Creeping Terrify is a Warframe Augment Mod for Nekros' Terrify that slows down affected enemies.
Can be used to scare enemies off when the Cryopod is hoarded by enemies or used when you need to revive teammates stranded in a horde.
Fully works on Security Cameras and Drones in the sense that the AI will attempt to turn away for its duration and also does not trigger alarms even when within their line of sight.
Maximization is a form of specialization: mods may be blended to result in values that vary between the top-end limits listed here. Click any maximized link to learn how to build it.
Ad blocker interference detected!
Wikia is a free-to-use site that makes money from advertising. We have a modified experience for viewers using ad blockers

Wikia is not accessible if you've made further modifications. Remove the custom ad blocker rule(s) and the page will load as expected.