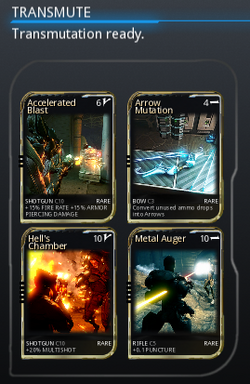 Transmute four, unused, unfused artifacts into a new random artifact.

–In-game description
Transmutation is the method of combining unwanted mods in conjunction with credits, for a chance to create a better, rarer mod.
Most types of mods, including Nightmare mods, Corrupted mods and even Aura mods are obtainable through this method.
Begin by clicking the Transmutation button at the mod screen. From here you can select unranked mods to be used for Transmutation. Once you have arranged the mods you want to fuse, simply click the Apply Transmutation button.
The cost of Transmutation varies depending on the rarity of mods used. Prices range from 
12,000 to 
36,000 . 
12,000 for transmuting any 4 common mods, 
24,000 for transmuting any 4 uncommon mods and 
36,000 credits for any 4 rare mods.
The end result of Transmutation depends on the collective rarity of mods used. Transmuting 4 common mods have a chance to produce rarer mods, but less so when compared to transmutations using mods of higher value. For example: combining 4 different rare mods is costly but yields a greater chance of producing a rare mod from the transmutation.
Apart from it, the algorithm of transmutation is completely random -- There are no recipes for even the simplest mods (Although it would appear that Transmutating more than 2 duplicates at a time uses a different algorithm that has a high chance of yielding common mods.).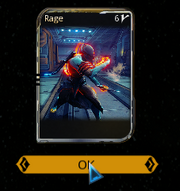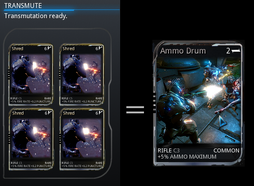 Currently some mods are only obtainable via transmutation, for example Shield Flux.
You cannot use Fusion Cores, Mods or Auras that have been upgraded, or Mods you currently have equipped.
There is no specific mod combination that produces a certain mod, and is purely based on rarity and chance, however Rarity is a known factor.
Polarity of the mods used may also be a factor in the end results of transmutation.
Rare mods such as Reflex Guard, Stabilizer and Ammo Mutation mods can be awarded in Survival missions, giving newer players chances to easily fuse 4 rares (provided that they have the credits to do so).
Fusing 3 or 4 of the same rare mod will result in a common mod. This is most likely to make transumation a bit harder as some rare mods are found more commonly.
As of 11.2.1, transmutation no longer produces Warframe abilities or Sentinel precepts, greatly increasing the chances of getting something useful.
After transmutation, then going back to do the process again, your screen can freeze on itself, and you must restart the game to fix this issue.