All right, as you all may know. Alad V is currently not to happy with us meddling with his plans yet again, and I can't help but wonder. I think he may be involved in the upcoming return of the long lost J-3 Golem.
And with all respect, I've missed that little pulling, stinking bugger as much as the rest of us. But, it seems to me he's probably changed quite a bit since he was removed.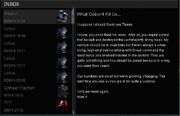 See his quote in the middle of this entry. "I now command the most fierce and evolved infested in the system"? What could this mean... and what's with the phrase "We were their coaches?" With further analysis into this, I came up with either of two options.
#1: It could be the return of the good ol' Infested J-3 Golem, with a huge cosmetic change and perhaps new abilities as well. (Because in all honesty, a infested with Mag's pull ability seemed a little weird.)
#2: It could be the addition of the J-3 Golem as an Infested type stalker if you will, and the implementation of the Infested Juggernaut that won the Enemies of the Tenno: Infested contest.
Either way, it sounds like we're in for a lot of work in the next update. Grab your Soma's Lanka's or any gun that's good at shooting through a crazy man's robotic collar and pray to Tenno Jesus that we don't have to actually coach these new monsters. :D
Lol, that's enough for me. Leave your thoughts and comments below. I'm interested in what you all have to say.
Peace out, and have fun, guys.
Fellow Hunter, AEP8FlyBoy
Ad blocker interference detected!
Wikia is a free-to-use site that makes money from advertising. We have a modified experience for viewers using ad blockers

Wikia is not accessible if you've made further modifications. Remove the custom ad blocker rule(s) and the page will load as expected.