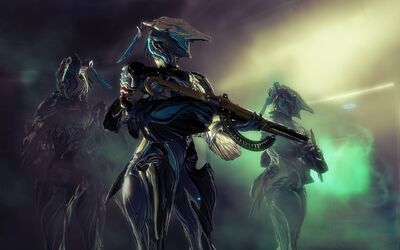 A week or 2 ago, I posted a picture of a Warframe that was leaked on PrimeTime! Turns out I was wrong with the Volt Prime. Haha. The devs have finally confirmed the new Warframe to be an Air-Based, Female Frame. Wow. This new frame might as well be my favorite looking one. Looking forward to play as her! Post your thoughts below! 
Ad blocker interference detected!
Wikia is a free-to-use site that makes money from advertising. We have a modified experience for viewers using ad blockers

Wikia is not accessible if you've made further modifications. Remove the custom ad blocker rule(s) and the page will load as expected.