I've played every warframe except for Hydroid now and I've gotten a decent idea of which warframe abilities are useful, and which ones are kind of "niche."  This is all fine and good--DE is constantly tweaking things, and it's all part of the process of making things better.  However, it is particularly egregious when a warframe's 4th ability, their "Ultimate" skill, is a big disappointment.  So I've decided to make a poll to see what other players are thinking: what are the best Ultimate abilities, which ones are in most need of a rework? What qualities make the best Ultimates really great? What qualities does a bad Ultimate lack?
Unfortunately, there are no "ranking" polls available on the wikia network, to my knowledge, nor am I able to let players vote for more than one.  I'd rather keep this on-site, so you'll be restricted to choosing one Ultimate and one reason for each poll.  Please elaborate in the comments on your vote (if you have time), as well as possible runner-ups; I've noticed that a lot of new players dislike certain skills because they don't understand where it can be useful, a lot of older players can give tips on useage while offering potent arguments for their votes, and pretty much anyone can bring up a good point that nobody had even considered.
What makes this ability so good?
Ultimate Ability in Most Need of a Rework
What's wrong with this ability?
Here's a bonus question (regarding the warframe with your vote for the "Ultimate Ability in Most Need of a Rework,"): do their other skills make up for the shortcoming in their ultimate? If it doesn't, how would you change it?
Thanks for participating!

**edit: I screwed-up and forgot to include Mirage and Zephyr. I've decided to re-start the poll with those two added. Here are the results of the old poll: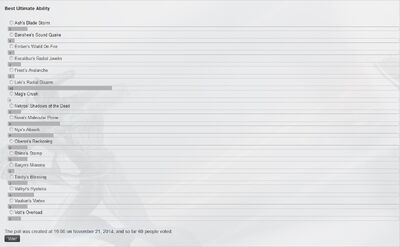 Ad blocker interference detected!
Wikia is a free-to-use site that makes money from advertising. We have a modified experience for viewers using ad blockers

Wikia is not accessible if you've made further modifications. Remove the custom ad blocker rule(s) and the page will load as expected.