Sorry, if it isn't well formatted it's pretty much a copy & paste of the original thread in my clan's forums:
Here's the Lotus Intel videos and some explanations.
Lotus Intel Video 1
Explanation
Using Verefor's translation tablet, I managed to come up with "MOA NAME TBD" for the big title; which does not make a lot of sense (some moa is going to have its name decided?).
The line just below shows this: HIGHLY EFFECTIVE VERSUS TENNO
Lotus Intel Video 2
Explanation
Translation of video text

CHAIRMAN

THE KEY WORKS.


WE WILL PROFIT. OROKIN SALVAGE IS

INCREDIBLE. THE WEAPON FUSION WAS

A SUCCESS. THE NEW MACHINES EVISCERATED

OUR CAPTURED TENNO SPECIMEN. THERE

ARE MILLIONS PREPARED. SHOULD WE

LAUNCH? THE TRAITOROUS LOTUS WILL NOT

BE FOREVER BLIND TO OUR PLAN.


PLEASE ADVISE,

COLLECTOR APACUS

00:25

Lotus Intel 2


Translation Key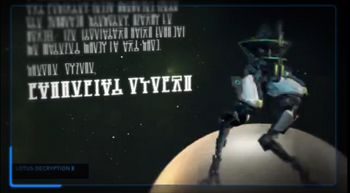 So what it means represents the end game. What it may represent is a army of special MOAs. The Ambulas may be the prototype of this MOA. What I think is that the Grineer may be involved at seeking Orokin technology.
The end game may actually be Grineer and Corpus working together at capturing Tenno. "The key" may actually be what I heard as the "Orokin tileset".
It may show that there will be combat in a Orokin temple that holds alot of lost technology.
Collector Apacus may be a high ranked member of the Corpus.

Now the words analysis:
Eviscerated: To remove an organ, such as an eye, from (a patient).
This may mean that the captured Tenno have been opened and are being dissected. The new machines may mean a multi-function robot as a replacement to humans. It can fight and do research.
Tnargraef's explanations:
Wikia contrbutor 1's explanation:
Ad blocker interference detected!
Wikia is a free-to-use site that makes money from advertising. We have a modified experience for viewers using ad blockers

Wikia is not accessible if you've made further modifications. Remove the custom ad blocker rule(s) and the page will load as expected.