Got recently comments moderation power by deleting them and before doing some mess deleting what shouldn't be deleted i wanted to ask some guidelines when is the case of deleting comments. Often comments go definitely off topic or have vulgar content, but when do they surpass the limit?
Following screens are just examples on what i found around and am unsure if it's the case or not, with this blog i'm asking general guidelines for moderation, not just those two screens.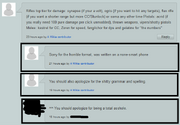 Any help and screenshoots as examples would be appreciated and help me clear some doubts, thanks :)
I'll follow for obvious reasons admins' indications, but of course hints from anyone is gladly accepted to create a discussion and make general guidelines for moderation.
Ad blocker interference detected!
Wikia is a free-to-use site that makes money from advertising. We have a modified experience for viewers using ad blockers

Wikia is not accessible if you've made further modifications. Remove the custom ad blocker rule(s) and the page will load as expected.