I was looking around this wiki and noticed that a few weapons had no videos for them (Mostly 'throwaway' melee weapons). Sure, this is fine. But it would be nice if we could get "Tenno Reinforcement" style videos where the weapons stats, name, and model are shown, as well as voiceless gameplay of the weapon in use. 
Example from the Team Fortress Wiki: http://wiki.teamfortress.com/wiki/Team_Fortress_Wiki:Weapon_Demonstration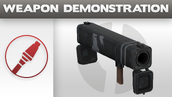 The TF2 Wiki has an ongoing Weapon Demonstration Project. It shows every aspect and ability of the weapons in game. Of course, review videos are better if you want an indepth look at a weapon, but I've always liked the Tenno Reinforcement style videos. Where it simply shows the weapon and then shows a couple clips of it being awesome. 
Ad blocker interference detected!
Wikia is a free-to-use site that makes money from advertising. We have a modified experience for viewers using ad blockers

Wikia is not accessible if you've made further modifications. Remove the custom ad blocker rule(s) and the page will load as expected.