Note: This post is not to be taken seriously. Well... you could take it seriously, but not very seriously. This is just some silly nitpicking that doesn't impact gameplay whatsoever. Don't blame me, blame the double espresso that makes me couldn't sleep. Lastly, sorry for grammatical error. I'm bad at english grammar, but good at Dragon language from Skyrim. It's something... I guess.
Ever stop and thinking how guns in Warframe universe could be practical in real life? How does a Grakata with all the shapes could be used without injuring the user? How does you hold Braton if the grip was made perpendicular with the trigger? Apparently, more than 70% of guns in Warframe is a crime to gun ergonomy design.
Read Part 2 HERE
Grineer Weapon
The Grineer's weapons are pseudo-organic in design, having odd bulges and protuberances in places. Their colors are often vomitous shades of yellow, orange, and green. Examples include the Gorgon LMG and the Grakata submachine gun. 
The general shapes of Grineer weapons are just horrible. More like a fossilized alien creature that spits bullet than an actual gun. There are many protruding tubes, unneeded ornaments, weird shapes coming out of the body. Many of those shapes could injured the gunner itself.
Let's take a look at some of guns:
While in general this rifle isn't so bad, there is one major flaw. There's no proper handguard on this gun. After shooting 3-4 magazine, you better try not to touch the barrel inside by mistake, because there's a hole big enough for your hand to get inside the handguard. Also the rear sight looks like could be break by accident. Hell, the gun might break to pieces if you dropped it from the table.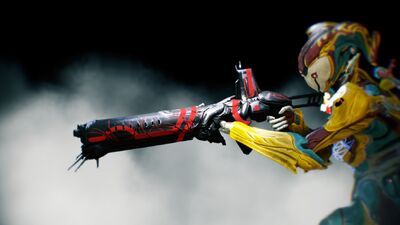 This motor driven, magazine fed light machine gun is another offender. First, let's take a look at where you place your left hand. Looking at the shape, looks like the motor is right above or a bit in front of where your left hand is. It will be very hot after shooting bullets. Second, the sight. How do you aim? Third, the stock looks very uncomfortable. Fourth, if the motor gets very hot and you can't hold it anymore, I assume you place it on the ground. I don't see the bipod. Is that the whisker shaped thing in front? That looks terrible and seems can't balance the gun.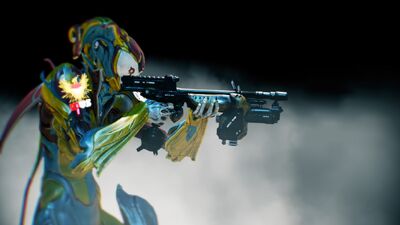 This... uuh rifle is bad. Not the stats, but the overall shape. The hell is that ball thing under the grip? Where's the sight? Is that the thing on the back? Where's the stock? Are they combine sight and stock? Why? That thing is placed to high! It's easier to hip shot than aim shot with this rifle.
Looks okay, surprisingly sleek, unlike other Grineer's weaponry. Reminds me of Kriss Vector, actually. But... It has 1 fatal flaw, the trigger. The trigger is as long as the grip goes, so you have to squeeze your hand to shoot. You can't hold this gun without any accidental shoot on someone's foot. Or yours.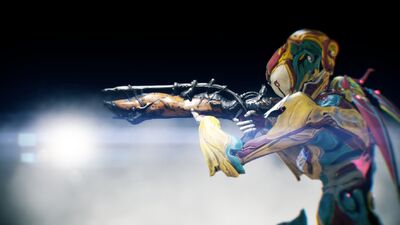 What is this I don't even. Next!
The handguards looks very uncomfortable to hold, or there's none, actually. Also the protruding sawblades will injure the shooter. It's just matter of time when the gun jammed and the spinning blades will rotating IN THE GUN and cut your arms.
Those are some Grineer designed guns that really an ergonomical disaster. Some, are surprisingly well made, like Hek Quad-Barreled Shotgun and Grinlok.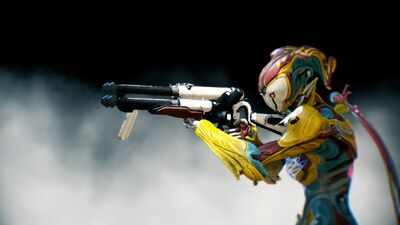 This shotgun has proper handguard, proper buttstock, though no visible ironsight. But let's be honest, with 4 barreled shotgun, who needs aiming? It creates wall of death strong enough to tear anything. I guess Vay Hek is not totally crazy afterall.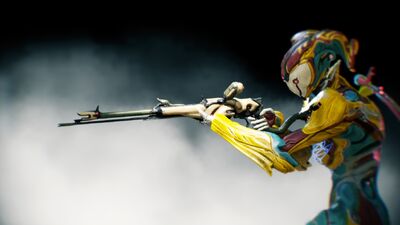 Looks properly made, and still comfortable enough to hold, though I still wonder how does the cartridges fills the chamber with magazine like that. I guess, Grinlok's cartridge is ball shaped, like a bb gun. Marelok also falls into this category, it's just a shortened version of Grinlok, with cut barrel and buttstock, hence the name, Marelok, similar to Mare's Leg.
Well, that's the Grineer Weapon. I'll make 2nd and 3rd part of this blog, containing Corpus and Tenno (and Orokin).
Ad blocker interference detected!
Wikia is a free-to-use site that makes money from advertising. We have a modified experience for viewers using ad blockers

Wikia is not accessible if you've made further modifications. Remove the custom ad blocker rule(s) and the page will load as expected.