De_steve: Stacks of health kits UI is going in
Fusion cores should be sorted properly
Fusion Core increases... should look at that yah
De_steve: Warframe posters would be awesome!
De_steve: Grenades seemed like warframe powers so we pulled them....
Mod De_steve: Double slide attack fixes - will be looking at it
De_steve: New planets in future - hell yes.
Mod De_steve: Earth spinning fixes - some day, good point.
Mod De_steve: Next big boss is about 2 stories high I think
On warframe comics:
De_steve: Will see how it works out
De_steve: Broadening map will happen but not for next boss...
De_steve: I think more enemies in the factions will happen before new faction...
De_steve: Dojo is progressing and looking awesome
Mod De_steve: I was just talking about brazillian currency - we are fixing
Mod De_steve: Stalkers? What is that?
Mod De_steve: Polarity filters - not a bad idea!
On mastery Rank

Mod De_steve: I think 9 is highest

De_steve: New missions like boss/survival are on the table totally
De_steve: soooooo many new mods coming
De_steve: like an insane amount
De_steve: Tongue in cheek mod "Rambow"
De_steve: No plans for mixmatch but plans to add new ability mods for old warframes
Mod De_steve: Warframe prestige would help guide polarities you want (in the works)
De_steve: Universal skill mods would be cool - something to try
De_steve: Trade system is in the works but there is a lot of potential problems - want to be careful
Mod De_steve: Grineer rollers need some work - yessss
Mod De_steve: Clan halls = Update 8!
Mod De_steve: And you build them and customize them and .. its very cool
sses?
Mod De_steve: gender alts of existing warframes is on the table, yes
Mod De_steve: Warlord demotion is crazy problem, will fix
Mod De_steve: will look at warlord demotion problem...
De_steve: Camera shake: I nerfed it a lot lately - there will be some options yes.
Mod De_steve: Some camera shake is used to recoil, so we have to be careful
Mod De_steve: update 8 progress: its coming but lots of bumps... will update when I know more
Mod De_steve: Warframe slots - yeah, maybe mastery increase
Mod De_steve: scindo shaking for everyone is a bug! will fix.
Cat Frame unconfirmed.
Multiple Inspirations were really used for all the art.
Void was mentioned as being a great inspiration and work based on that may be added.
Mod De_steve: Hamster Warframe for sure
Originally it was going to be that the warframes were unique characters, but as more customization developed they looked more towards that the frames were seen as just armor.
Orokin Art set in the works.
Ash started as female.
Mag Started as Male.
Ember Started as Male.
Trinity was the first female.
New combat Engineer/Trapper Warframe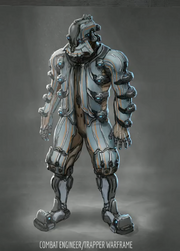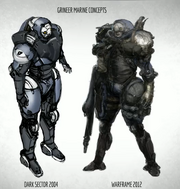 1.1 Million Slash Dashes performed on April 23rd.
Ad blocker interference detected!
Wikia is a free-to-use site that makes money from advertising. We have a modified experience for viewers using ad blockers

Wikia is not accessible if you've made further modifications. Remove the custom ad blocker rule(s) and the page will load as expected.