"Market forces dictate that you need to evolve or die."

This item has been removed from the Void Relic drop tables at this time and is no longer available.
Vectis Prime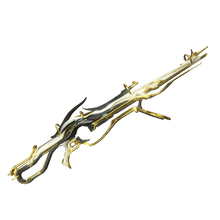 Statistics
Utility
Normal Attacks
Miscellaneous
The Vectis Prime is the prime version of the Vectis sniper rifle. Featuring higher base damage and a doubled magazine, the Vectis Prime retains the standard version's 4x zoom setting, but swaps the Vectis' 3x zoom for a much higher 10x zoom, allowing for both medium and long range combat.
On May 24th, 2017, it was announced that Vectis Prime would enter the Prime Vault and be retired from the reward tables on May 30th, 2017. Any preexisting components or fully-built weapons will remain as is.
Manufacturing Requirements

15,000

1

1

1

10
Time: 12 hrs
Rush: 50
Market Price: N/A
Blueprints Price: N/A

Drop Locations

Blueprint
Lith A1 Uncommon (V)
Neo A1 Uncommon (V)
Neo N1 Common (V)
Axi C1 Common (V)
Axi H1 Common (V)
Axi T1 Common (V)
Meso V1 Rare (V)
Neo B1 Uncommon (V)
Axi V2 Rare (V)
Axi V3 Rare (V)
Axi V4 Rare (V)

Blueprint
Lith A1 Uncommon (V)
Neo A1 Uncommon (V)
Neo N1 Common (V)
Axi C1 Common (V)
Axi H1 Common (V)
Axi T1 Common (V)
Meso V1 Rare (V)
Neo B1 Uncommon (V)
Axi V2 Rare (V)
Axi V3 Rare (V)
Axi V4 Rare (V)

Lith/Meso/Neo/Axi refer to

Void Relics

(

V

) Denotes

Vaulted

Void Relics
Characteristics
Edit
This weapon deals primarily

Puncture damage.
Advantages
Highest damage of all hitscan sniper rifles.
High critical chance.
High status chance.
Fast reload speed.
Good Ammo economy.
Has both low and high zoom ranges, and having only two zoom settings instead of three allows for faster switching between ranges.
Good candidate for Charged / Primed Chamber due to its magazine size of two rounds, or one round with Depleted Reload.
Zooming in increases base damage by +15% at 4x zoom or +20% at 10x zoom (stacks additively with base damage mods like Serration).
Disadvantages
Mediocre Fire Rate.
Largest shot combo requirement of all sniper rifles.
High recoil, which may make it difficult to fire a follow-up shot, especially at higher zoom levels.
Comparisons:
Vectis Prime compared to the Vectis:

Higher damage (325.0 vs. 225.0).
Doubled magazine size (2 vs. 1).
Higher zoom multiplier (4.0x, 10.0x vs. 3.0x, 4.0x).
Higher scoped damage bonuses (15%/20% vs. 10%/15%).
Additional polarity.
Higher shot combo requirement (5 shots vs. 2 shots).
Slightly shorter shot combo reset duration (3 seconds vs. 4 seconds).
Weapon Loadouts
Edit
Due to the fact that it has two rounds per magazine instead of the Vectis' single round, Charged Chamber and Primed Chamber are less effective without the use of manual reloading.

Manual reloading also cannot be optimally performed due to the recoil animation after the first shot, which prevents the performance of an immediate reload.
This can be circumvented by using the Depleted Reload mod, which reduces the magazine size of the Vectis Prime to 1, and increases reload speed by 48% at max rank.

The Vectis Prime has superior zoom capabilities to the Vectis, having a 10x maximum magnification compared to the Vectis' 4.5, while still maintaining a 4x minimum zoom for mid-range shooting.
The Vectis Prime has the largest shot combo requirement of the sniper rifles, needing 5 shots to initiate the 1.5x damage multiplier.
Vectis is Latin for "Bar" or "Pole", referring to a locking bar (or bolt), a leveraging bar such as a Crowbar, or possibly referring to a carrying pole.
The Vectis Prime, opposing the normal Vectis, has a bipod, instead of one bar. This might suggest that this rifle, in practice, would be more precise because of the extra support it would grant. It is purely cosmetic, however.
Vectis Prime Sk

i

ns
Patch History
Edit
"Ah, have you come to make a donation to my newest 'enterprise'...?"

Patch history is needed. Click here for instructions.
Vectis, the original counterpart of this gun.
Ad blocker interference detected!
Wikia is a free-to-use site that makes money from advertising. We have a modified experience for viewers using ad blockers

Wikia is not accessible if you've made further modifications. Remove the custom ad blocker rule(s) and the page will load as expected.