Vulkar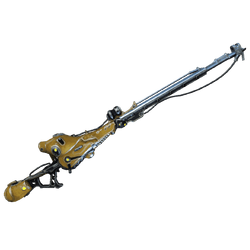 Statistics
Utility
| | |
| --- | --- |
| Projectile Speed | Hit-Scan |
| | |
| --- | --- |
| Firing Rate | 1.5 rounds/sec |
| | |
| --- | --- |
| Magazine Size | 4 rounds/mag |
Normal Attacks
Miscellaneous
Built by the Grineer for their elite troops, the Vulkar is a devastating distance weapon. In the right hands it is capable of taking down targets long before they get into attack range.
The Vulkar is a Grineer sniper rifle, released in Update 8. It is equipped by Grineer Ballistas. It mainly utilizes Impact damage and shares the highest status chance of sniper rifles with the Lanka, making a good amount of the shots to deal devastating procs.
It can be closely compared to the Vectis, a tenno sniper rifle.

This weapon can be sold for

‍7,500.
Characteristics
This weapon deals primarily Impact damage.
Advantages:
High Impact damage.
Low recoil.
Has superior zoom capabilities.
Good status chance.
Disadvantages:
Small magazine size.
Slow rate of fire.
Long reload time.
Low puncture and slash damage types.
Weapon Loadout
Main article: Category:Vulkar Build
See the user build section for builds using this weapon.
Tips
Use a close-mid ranged sidearm to compensate for closer ranged targets.
Try to aim for the head or other vulnerable points only, take your time. Spraying and praying with this weapon does not work well, as with all snipers.
Adding either a rank 2 Wildfire or a rank 2 Magazine Warp will give you 1 extra bullet. It's possible to have 2 extra bullets with a combination of Magazine Warp and Wildfire, however the sum of the effects of the mods must be 40% or greater, since the game sums the values before rounding them up.
Maxed Point Strike and Vital Sense mods work well with this weapon, given it's decent critical chances.
Use the Sniper Ammo Mutation mod to greatly relieve the low total ammo and ammo drop chance for sniper rifle ammo.
Rupture is the most probable physical mod to use, as it increases Vulkar's already decent impact damage further.
Bugs
Trivia
It seems the Vulkar is based-off on the name "Vulcan", the god of fire, the forge and the volcanoes in Roman mythology.
It would seem that the Vulkar has an exceptionally high Impact damage for a sniper rifle, suggesting that it uses powerful slug rounds, despite its depiction as an armor-piercing rifle.
Media
See Also
Ballistas, the Grineer sniper units that use this weapon.