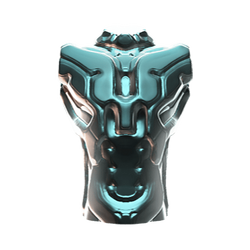 When using Blueprints to create Warframes, one of the components required is the Chassis. Certain Chassis blueprints can be acquired from bosses, random mission rewards, quests, or special community alerts.
Prime Warframes will have their components drop from Void Relics, and component blueprints for Prime Warframes can be traded among players. Built components cannot be traded.
The Blueprint can be sold for 3,500

‍ 3,500 and the finished component for 1,000

‍ 1,000.
Manufacturing Requirements
Edit
Below is the standard Chassis recipe, but some Chassis blueprints require different resources and quantities.
Chassis Location Guide
Edit
Patch History
Edit
"Ah, have you come to make a donation to my newest 'enterprise'...?"

Patch history is needed. Click here for instructions.
Ad blocker interference detected!
Wikia is a free-to-use site that makes money from advertising. We have a modified experience for viewers using ad blockers

Wikia is not accessible if you've made further modifications. Remove the custom ad blocker rule(s) and the page will load as expected.