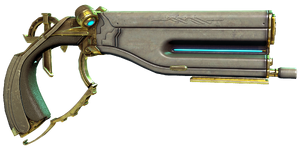 Weapons are used by Warframes, Archwings, Sentinels and enemies in combat, to cause damage. Weapons can be leveled up for more mod capacity to apply more mods and increase capability. There are three main weapon types used by Warframes: Primary, Secondary, and Melee weapons. Sentinels also have a single weapon that is leveled up independently.
Usage
Weapons in Warframe obtain Affinity (Experience Points) when used in combat. When enough Affinity has been obtained the weapon rank increases, up to a maximum rank of 30. The weapon's Mod capacity is increased by one point per rank, these points limit what combinations of mods you can equip. You can double the Mod capacity by using an Orokin Catalyst on the weapon and decrease the Mod capacity requirement of the mods used by affecting the Polarity of the mod slot.
Leveling up weapons grants 100 Mastery Points per level (for a total of 3,000 Mastery Points)  to the player. Once a weapon has been leveled up, one cannot purchase the weapon again and level up it for more mastery points. Only levels attained beyond that of the first time around will add points. However, Dual Weapons will add more points, such as the Akbolto and the Akbronco, if you mastered their respective single weapons.
Many Melee weapons have cosmetic "skins" that can be applied in the color pallet option menu. With a few notable exceptions, these skins do not change the attributes of the original weapon.
Weapons have eight mod slots. Installing and removing mods can be done freely, when a mod is removed you gain back all mod capacity that was being used by that specific mod, now available for use with any other mod.
A new player will have the choice of 6 different weapons in the Vor's Prize tutorial, 2 from each weapon slot. Players can choose between the MK1-Braton and MK1-Paris as their primary, the Lato and MK1-Kunai as their secondary, and the Skana and MK1-Bo as their melee.
Attributes
Foundry Tree
Main article: Weapons Required as Crafting Ingredients
In this section are blueprints that require weapons as crafting ingredients (without mentioning their components). The weapons on the left side are consumed in the process of crafting the weapon on the right.
If you are wondering whether you should delete a weapon from your inventory (based on the currently known weapons available for crafting), use CTRL  + F  or ⌘  + F  to use your browser's search function to check if the weapon you wish to discard is present in the left side of this table.
The Dual Kamas, Tipedo, Bolto and Akbolto are special cases in that they are both products and ingredients on this list; be careful not to sell any of these if you want to craft them.
M Directly purchasable in the Market for credits
D Requires Clan Dojo research
V Requires components which relics are vaulted/occasionally available from Baro Ki'Teer
Bugs
Equipping only a secondary weapon in your inventory will result in the weapon's name not being displayed in the Squad's Arsenal Overview. This will make it appear as if you only have a Warframe equipped. However, you will still bring said secondary with you into any mission.
If a primary weapon is not equipped and a challenge requiring primary kills appears in a mission, pistol kills will count towards the objective count.
Patch History
"Ah, have you come to make a donation to my newest 'enterprise'...?"

Patch history is needed. Click here for instructions.
See Also
Ad blocker interference detected!
Wikia is a free-to-use site that makes money from advertising. We have a modified experience for viewers using ad blockers

Wikia is not accessible if you've made further modifications. Remove the custom ad blocker rule(s) and the page will load as expected.