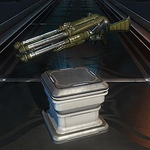 Weapon Augments are mods that apply to specific weapons, frequently adding unique mechanics that change how the weapon functions. For information on the radial effects such as Justice that are added by Syndicate augment mods, please consult the Syndicate Radial Effects page.
Augment Categories
Edit
Weapon augment mods are split into two categories: Syndicate augment mods and Arena augment mods
Syndicate augment mods are purchased from Syndicates. In order to purchase a Syndicate augment mod, the player must have reached Rank 4 with the appropriate syndicate. Purchasing a Syndicate augment mod costs 25,000 Syndicate Standing. Once purchased, Syndicate augments may be traded to other players and used regardless of Syndicate rank.
In addition to increasing the weapon's stats or giving it an additional effect, Syndicate Augments give the augmented weapon the ability to trigger a Syndicate Radial Effect when enough Affinity is earned by the weapon during a mission.
Arena augment mods are acquired from either enemies in The Index on Neptune or from defeating Kela De Thaym at Merrow, Sedna. Although Arena Augments are restricted to specific weapons and function similarly to Syndicate augments, they do not give the weapon the ability to trigger a radial effect.
Some weapon augments can be applied to multiple weapons. As a general rule, weapon variants such as Prisma or Wraith can use the same augments their base counterpart can. Gilded Truth is a specific exception, as the mod is specifically for Burston Prime and not the regular Burston. Whether Syndicate Weapons can use Augment mods seems to depend on the weapon in question - Although the Rakta Dark Dagger can make use of Gleaming Blight, the Vaykor Hek cannot use Scattered Justice.
Weapon Augment List
Edit
View Weapon Augments List
▾
▾
Ad blocker interference detected!
Wikia is a free-to-use site that makes money from advertising. We have a modified experience for viewers using ad blockers

Wikia is not accessible if you've made further modifications. Remove the custom ad blocker rule(s) and the page will load as expected.