"Market forces dictate that you need to evolve or die."

This item has been removed from the Orokin Void drop tables at this time and is no longer available.
Wyrm Prime is the first Prime Sentinel, a version of Wyrm featuring Orokin styling and improved stats.
On May 10th, 2016, it was announced that the Wyrm Prime, along with its related Warframe and weapon counterparts, would enter the Prime Vault and be retired from the reward tables on May 17, 2016. Any preexisting components or fully-built weapons will remain as is.
Wyrm specific Precept mods
Name
Description
Crowd Dispersion

Unleashes radial stun damage when multiple enemies are nearby. Increasing level increases range.

Warrior
Sentinel will attack first visible enemy in range. Increasing level increases range.
List of Sentinel Mods
Comparisons
Edit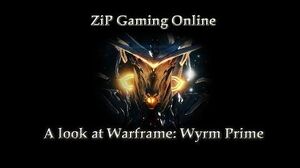 Patch History
Edit
References
Edit
Ad blocker interference detected!
Wikia is a free-to-use site that makes money from advertising. We have a modified experience for viewers using ad blockers

Wikia is not accessible if you've made further modifications. Remove the custom ad blocker rule(s) and the page will load as expected.