"Market forces dictate that you need to evolve or die."

This item has been removed from the Orokin Void drop tables at this time and is no longer available.
Wyrm Prime is the first Prime Sentinel, a version of Wyrm featuring Orokin styling and modified stats.
On May 10th, 2016, it was announced that the Wyrm Prime, along with its related Warframe and weapon counterparts, would enter the Prime Vault and be retired from the reward tables on May 17, 2016. Any preexisting components or fully-built weapons will remain as is.
Wyrm specific Precept mods
Name
Description
Crowd Dispersion

Unleashes radial stun damage when multiple enemies are nearby. Increasing level increases range.

Warrior
Sentinel will attack first visible enemy in range. Increasing level increases range.
List of Sentinel Mods
Comparisons
Edit
Wyrm Prime, compared to Wyrm:

Significantly higher base shields (300 vs. 100).
Significantly higher armor (150 vs. 50).
Less health (100 vs. 200).
The Wyrm Prime features triple the armor and shield capacity of the normal Wyrm, at the cost of having half the health.

However, because of this reduction in health, Wyrm Prime statistically has less Effective Health than its regular counterpart, and is therefore the weakest sentinel in terms of health.[1]

Building the Wyrm Prime is necessary to acquire the Prime Laser Rifle, which is the first Primed Sentinel weapon.

Initially upon release, the Wyrm Prime was equipped with the Laser Rifle of its regular counterpart. It has since been updated to use the Prime Laser Rifle with

Hotfix 13.9.2

.
The Wyrm Prime resembles a traditional Chinese Dragon, from its serpentine body shape to its horns and whiskers.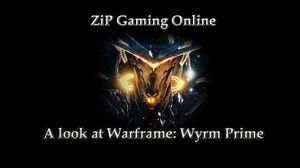 Patch History
Edit
"Ah, have you come to make a donation to my newest 'enterprise'...?"

Patch history is needed. Click here for instructions.
References
Edit
Ad blocker interference detected!
Wikia is a free-to-use site that makes money from advertising. We have a modified experience for viewers using ad blockers

Wikia is not accessible if you've made further modifications. Remove the custom ad blocker rule(s) and the page will load as expected.